Berries Promotion
Starting from
Sale price

$5.00

Regular price
per
Meal
A fruit-filled explosion of flavour brought to you by black mulberries—and blueberry, strawberry & blackcurrant powders. Topped with Fair trade dark chocolate chips. Packed with antioxidants.
Gluten-free rolled oats*, Chia seeds*, Sprouted brown rice protein powder*, Fruit powder blend* (date*, blueberry*, strawberry*, blackcurrant*, banana*), Sunflower seeds*, Dried black mulberries*, Dried Goji berries*, Fair trade dark chocolate chips* (golden cane sugar*, cocoa mass*, cocoa butter*), Natural flavour*, Himalayan pink salt, Guar gum*, Beet powder*, Bacterial culture (Bacillus subtilis DE111®). May contain: Almonds, Brazil nuts, Cashews, Hazelnuts, Pecans, Pistachios, Walnuts, Sesame, Mustard. *Organic


"It makes me feel better knowing I'm giving my body what it needs to recover."

"I've been on the hunt for the perfect solution for breakfast on-the-go, and I may have found it."

"I discovered Holos, and have been extremely impressed."

Experience the HOLOS Force with organic balanced energy.
Découvrez la force HOLOS avec une énergie organique équilibrée.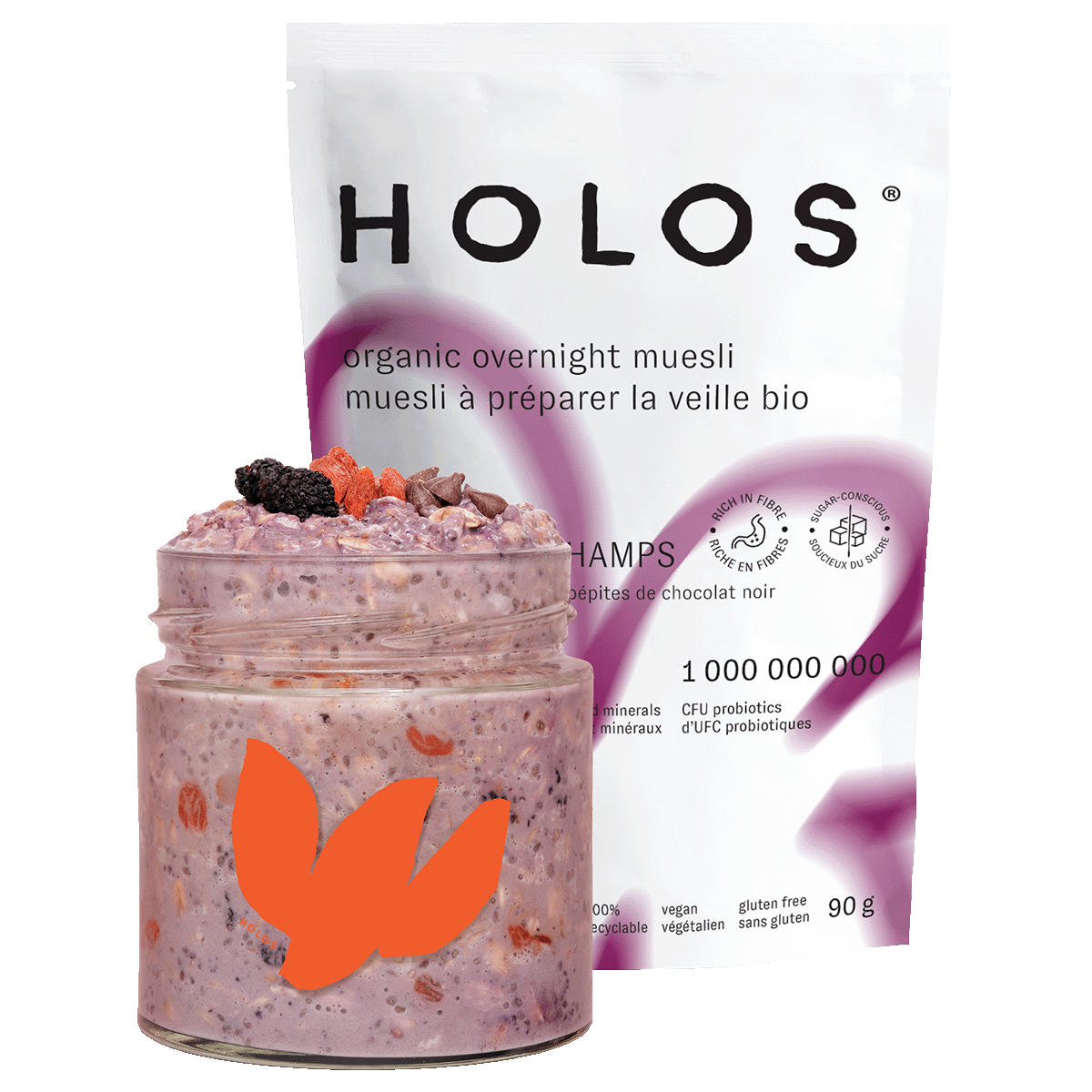 Build your Box
Simple as 1 2 3
Pour Milk
Soak Overnight
Enjoy HOLOS
Discover the goodness of HOLOS
We've carefully selected some of nature's most nutrient-rich, energizing and palatable ingredients to create a perfectly balanced breakfast designed to support your modern & active lifestyle.
Rolled oats (gluten-free)
This morning classic is full of complex carbohydrates, which give your body long-lasting energy. It contains soluble beta-glucan fibre and resistant starch that help keep your blood sugar stable and act as prebiotics that support gut health.
These tiny but powerful seeds bind together all the ingredients once soaked! Aztec warriors ate these omega 3 and fibre-rich seeds for high energy and endurance (chia means "strength" in the Mayan language).
Sprouted brown rice protein
Brown rice protein is a key provider of proteins in a plant-based diet because it is equally effective to whey protein at boosting lean muscle mass and it has high digestibility and assimilation properties. The unique process of sprouting and fermenting the rice (and its husk) results in a massive increase in lysine and other essential and non-essential amino acids that makes its profile complete.
Probiotics (Bacillus coagulans)
There are trillions of bacteria in and on our bodies. Our probiotic strain, as many other strains, keeps in check the healthy balance of good and bad bacterias in your gut and thereby support our bodies' ability to absorb nutrients and fight infection. Its ability to survive hot temperature and acidic environment (i.e stomach) is what makes it unique. You won't taste it, but you'll feel the difference.
Ounce for ounce, Goji berries contain more antioxidants than oranges, more Vitamin A than carrots, and more iron than soybeans and spinach. That's what a superfood is all about. It's tangy, sweet flavour adds a perfect complement to breakfast.
Strawberries have been enjoyed for centuries, and their vibrant flavor and aroma are captured in this powdered form. Packed with vitamin C and antioxidants, strawberry powder offers a refreshing burst of fruity goodness.
Indulge your taste buds in the rich and velvety allure of fair trade dark chocolate chips. Dark chocolate is known for its bittersweet taste and smooth texture, a perfect balance between cocoa and sweetness.
Discover the essence of blueberries in a convenient powdered form. Bursting with antioxidants, blueberry powder encapsulates the goodness of these small, vibrant berries. This powder adds a delightful touch of tartness and a deep, fruity flavor that will make your taste buds sing.
With a rich and distinctive flavor, blackcurrants have a captivating presence. These small, dark berries are known for their intense tartness and slightly sweet undertones.
Black mulberries are a treasure trove of flavor and history. Hailing from ancient Persia, these exquisite berries offer a delightful balance of sweetness and earthiness.
Us vs Them
| | HOLOS | Most other breakfasts |
| --- | --- | --- |
| Organic | | |
| High-Protein | | |
| Probiotics | | |
| Gluten-Free | | |
| 100% Recyclable Packaging | | |
| Sugar-Conscious (<10%DV) | | |
| Superfoods | | |
Build my box
Pick your favourite flavours
FREE shipping available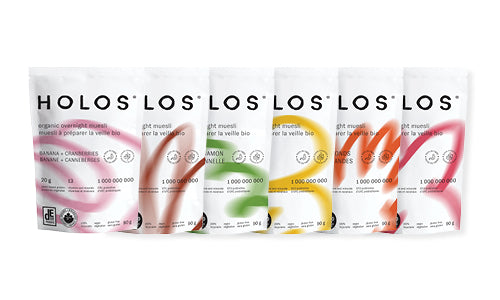 Box of 12
Starting at $4.99/meal
Pick your flavours
Free shipping available

New customer promotion
1 free signature HOLOS jar
($5 value)
Select
Most popular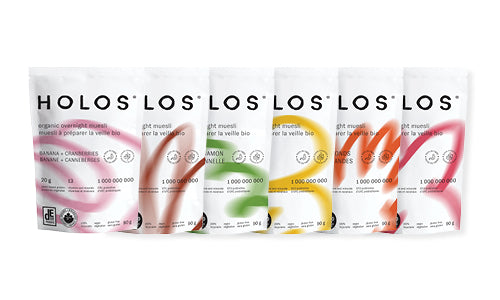 Box of 30
Starting at $4.60/meal
Pick your flavours
Free shipping available

New customer promotion
1 free signature HOLOS jar
($5 value)
Select
Best value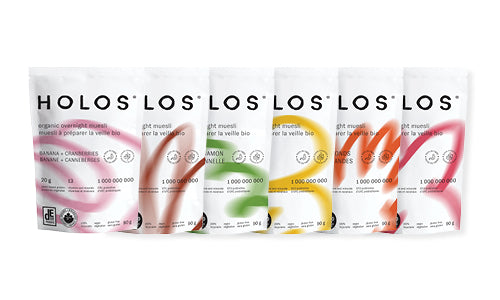 Box of 48
Starting at $4.42/meal
Pick your flavours
Free shipping available

New customer promotion
2 free signature HOLOS jar
($5 value)
Select